Coat Drive – Give The Gift Of Warmth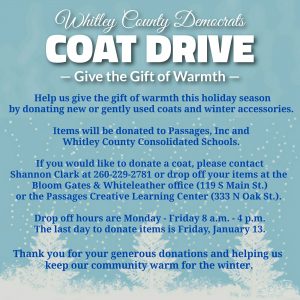 Help us give the gift of warmth this holiday season by donating new or gently used coats and winter accessories .
Items will be donated to Passages, Inc of Whitley County and Whitley County Consolidated Schools for children in need.
If you would like to donate a coat please contact Shannon Clark at 260-229-2781 or drop off your items at the Bloom Gates & Whiteleather office  (119 S. Main St.) or the Passages Creative Learning Center (333 N. Oak St.).
Drop off hours are Monday – Friday 8 a.m. – 4 p.m. The last day to donate items is Friday, January 13.
Thank you for your generous donations and helping us keep our community warm for the winter.
https://m.facebook.com/events/103011686860498?acontext=%7B"ref"%3A"104″%2C"action_history"%3A"null"%7D&aref=104